Michael Wimmer
Personal information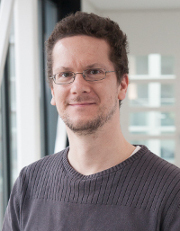 Dr. Michael Wimmer
QuTech
Delft University of Technology
Lorentzweg 1
2628 CJ Delft
The Netherlands

Room: F340
Phone: +31-15-27 86779
E-Mail: m.t.wimmer(at)tudelft.nl

If you would like to contact me, you can check my agenda for availability. You may drop by at any time, but if you prewarn me a few hours ahead via email, I can better guarantee to be there.
Research interests
I am a theoretical physicist working on Majorana fermions, topological phases of matter and quantum computing. I am working as a team leader at QuTech, where I lead the Quantum Tinkerer group together with Anton Akhmerov. Previously, I was a post-doc in the mesoscopic physics group of Carlo Beenakker in Leiden. My main research interests are:
Topological aspects of condensed matter physics

Topological insulators and superconductors
Majorana fermions: Making them and finding them in transport measurements
Effects of disorder

Numerical methods

Numerical algorithms for quantum transport calculations. Check kwant-project.org for our open source quantum transport code!
Numerical computation of Pfaffians. See Downloads for an implementation
Other interests of mine include
Graphene:

Edge states in nanoribbons and quantum dots
Spintronics in graphene

Spintronics

Interplay between Rashba and Dresselhaus spin-orbit coupling
Current-induced spin accumulation, spin Hall effect
Publications
(For citations and references see my Google Scholar profile)
2017
Dissertation
Quantum transport in nanostructures: From computational concepts to spintronics in graphene and magnetic tunnel junctions . Universitätsverlag Regensburg 2009.